Everyone has friends and family who are just bad at buying gifts. And it's not that you're so hard to buy a present for. Heck, you gave them plenty of hints and even created a wishlist for everyone to see on Neiman Marcus (it's affordable enough, right?), but to no avail. You're now stuck in the longest post-Christmas return line ever and it's time you got what you're worth!
With the remaining cash from the #GIFTFAIL returns, it's time to take care of yourself and get what you actually wanted. Of course, with all the sales jumping out at you, it can be difficult to figure out exactly what you really do want to buy yourself. So here are some suggestions based upon your favorite smartphone apps. Who, after all, knows you better than your own cellphone? (We know that battery doesn't get wasted after an hour from nothing.)
1. APP: Pandora Radio
Perfect Replacement Gift: Concert Tickets ($30-$200), iTunes Gift Card
There are a growing number of people who use phones to listen to music. Pandora is an app that not only has a variety of stations, but allows users to customize channels.
If you're seriously a music lover, an iTunes gift card makes a useful holiday recovery present. Want a memory that lasts a lifetime instead of a track that lasts a computer's lifetime? Splurge a little and get tickets to your favorite singer's next concert.
2. APP: IMDB
Perfect Replacement Gift: Netflix Subscription ($7.99-$19.99/month), Roku Box ($59.99-$99.99), Apple TV ($99), The Great Movies III by Roger Ebert ($19.80 via Amazon), Amazon Gift Card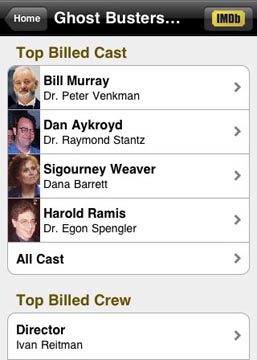 IMDB (Internet Movie Database) has information on every television show, movie, actor, director, writer, and producer who was ever relatively famous. From trivia to goofs, memorable quotes to photos, this app is the total package for the lover of the silver screen.
For a gift that keeps on giving back to you, there is the Netflix subscription. This will bring the best of television and film right to a your doorstep. If you already pay for a subscription, then getting yourself a Roku box or Apple TV will allow you to stream Netflix right to your television.
3. APP: Cor.kz
Perfect Replacement Gift: Membership to Wine of the Month Club (varies by subscription length), Wine.com Gift Card
Anyone who has Cor.kz on their phone is probably a wine enthusiast. With over 750,000 wines in the database, this application gives detailed notes on every bottle, and helps users to find the cheapest place to get a particular bottle.
Giving the wine lover in you a membership to the Wine of the Month Club is a great way to give yourself an experience of new flavors and styles from wineries. If you happen to be a bit particular, then check out Wine.com to buy more of what you love.
4. APP: Zillow
Perfect Replacement Gift: The New Complete Book of Home Buying by Michael Sumichrast ($21.95 via Amazon), Investing in Real Estate by Gary Eldred ($13.57 via Amazon)
Zillow is a trusted real estate app. Users can anywhere in the country to find houses for sale. The searches are customizable, and include aerial maps of the properties. It's the catch-all for anyone looking to buy, or sell.
For the real estate lover there are two books to get, depending on your interest. The New Complete Book of Home Buying is a comprehensive guide available for those looking to make the right decision on a housing search. For those looking to buy as part of a business, there is the classic Investing in Real Estate, which will teach buyers everything they need to know, and avoid, when flipping properties.
5. APP: The Situation
Perfect Replacement Gift: The New Complete Book of Home Buying by Michael Sumichrast ($21.95 via Amazon), Investing in Real Estate by Gary Eldred ($13.57 via Amazon)Perfect Replacement Gift: Tanning Membership/Gift Card, Jersey Shore on DVD ($19.99 per season)
Many people laughed when Mike 'The Situation' Sorrentino launched an app, but it's one of the biggest selling apps around. This app brings the 'GTL' (gym, tan, and laundry) religion to life. Users can access information on the closest gym, tanning salon, and laundromat in the area.
If you're one of the brave souls who has this app, a membership to a local tanning salon is perfect. Or, if you're downloading it just for kicks, you should have no shame in admitting you are a Jersey Shore fan. That makes the first two seasons on DVD a no-brainer.
6. APP: Urbanspoon
Perfect Replacement Gift: Restaurant.com Gift Card
Urbanspoon is the perfect app for restaurant lovers. With restaurant menus from all over the country, customizable search engines, and turn-by-turn directions to get there, this app is a favorite for anyone looking for a good meal.
What better complement to the food lover than the gift of a free meal? Gift yourself a gift card to Restaurant.com to make the post-holiday season just a little brighter.
7. APP: Livestrong
Perfect Replacement Gift: Whole Foods Gift Card, Personal Training Session ($29-$500), Dick's Sporting Goods Gift Card
The Livestrong.com app is a great way for the health-conscious person to keep up with a quest to lose weight and feel great. Whether it's counting calories with its comprehensive food database, or tracking calories burned from a long list of physical activities, this app is a perfect complement to a healthy lifestyle.
Head to Whole Foods buy a host of fresh fruit or other weight-sensible items. A personal training session at the local gym could help you get the guidelines you need to burn fat and tone up. If it is workout clothes you need, then make a mini shopping spree at Dick's your make-up Christmas gift.
8. APP: New York Times
Perfect Replacement Gift: The New York Times: The Complete Front Pages 1851-2009 ($37.80 via Amazon), The New York Times Guide To Essential Knowledge ($10.99)
Few newspapers hold a candle to the New York Times. Its smartphone app gives readers a chance to access one of the most respected newspapers in the world. For those who still love the news, there are a couple of great books that are perfect.
The New York Times: The Complete Front Pages 1851-2009 captures everything from the Civil War to Obama's Presidential Inauguration. Another great option is The New York Times Guide to Essential Knowledge: it contains facts and knowledge from grammar to ancient mythology. With an easy to follow layout, it's just right for the highly educated reader you are.
CONCLUSION
Your smartphone might be the key to the perfect post-holiday season. Just a quick zip through your apps will help you pick the perfect make-up Christmas present. And if you can't decide on the specific gift even with all the post-Christmas sales, those gift cards mentioned above sure will come in handy down the line.